About
SOME OF MY SEWING PROJECTS
| | | |
| --- | --- | --- |
| Christening gowns for the twins. I replicated a photo of an antique gown their Mommy loved. More below. | And little dolls for little dolls. With matching teddies and nighties for dollies and twins. | Kitty Mitties I made for a blog promotion. OMG, fur everywhere! |
ABOUT MY WEBSITE
| | | |
| --- | --- | --- |
| This little website has been an adventure. For years, I taught sewing to men, women & kids. When school let out, kids would arrive at my door to make pretty clothing and have fun learning how to sew. | Afternoons were adult sewing classes. For a while, I taught at home, and later moved to the back of a fabric store. My students enjoyed my "simple" sewing as much as I enjoyed teaching them. | But the one constant in life is change. In 1999, I moved clear across the country, leaving my students and classes behind. In 2002, I put this website online to help me find people who would enjoy my simple sewing. |
A LITTLE ABOUT ME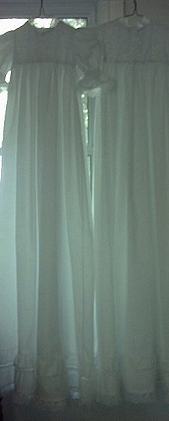 As a little girl, I loved sitting at the table while my mother was sewing on her antique old Singer Sewing Machine.
By 13, I was sewing my own clothing – a bonus since nothing off the rack fit right. That was over 35 years ago. Where ever do the years go?
Sewing was a hobby that turned into a part time business when I wasn't looking. I was still a teen when my dearest sister asked me to sew her Gold Anniversary Jacket for work. She infused me with confidence in my sewing; a gift I'll always be grateful for.
Since then, I've sewn for the Jeaux Canada Olympic dancers, and had competition costumes shipped as far as Greece.
Along the way, I taught beginner sewing, intermediate sewing and serging. I've even taught men's sewing classes and kids sewing classes. The kids were really fun – the men were funny. Sorry, no insults intended. But, they were. All thumbs, at first. 10 left thumbs, some of them.
My "beginner" students always exclaimed over how "simple" I made it for them to learn and progress. They almost always came back for my serging and advanced classes. I was very proud of that.
Today, thanks to the web, I am able to share 35+ years sewing experience with you. All my patterns were drawn by hand – usually on old newspaper or an end roll from the local newspaper once I realized they give those away happily. Slowly, I'm getting the collection scanned and cleaned up so you can enjoy them as much as I have.
Feel welcome to poke around. Enjoy!