Sewing How To: Not Your Granny's Sewing Book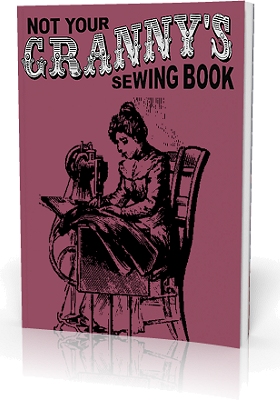 If you've tried sewing before and found it frustrating, or you find the instructions in commercial patterns confusing – this book is for you.
Because while I love retro sewing, I sure don't love the way they taught sewing back then. Sewing was confusing and learning to sew books and courses were filled with so many sewing terms, you needed a glossary just to understand what you were supposed to do. I like to make it much more simple.
We'll start with swatches of fabric and lots of pictures to teach you how to do all those fancy things like french seams, corners that are actually pointy, and zippers that don't look homemade.
Because sewing at home is fun, but you don't want your sewing projects to look homemade. So instead of asking you to stop sewing their clothes, your family asks you to sew more. Not that you necessarily want to sew more, but you want to be proud of your creations. Because homemade is awesome, as long as it doesn't have that home-made look. You know?
If you're an advanced sewer, don't buy this book. It's fun and has lots of fun projects, but it's not for you. It's for beginner to intermediate sewers. But it's a great gift for someone who wants to learn to sew (or to sew better).
Note: I'm just revising it. Again. The buy button will be back soon, along with some peeks inside.